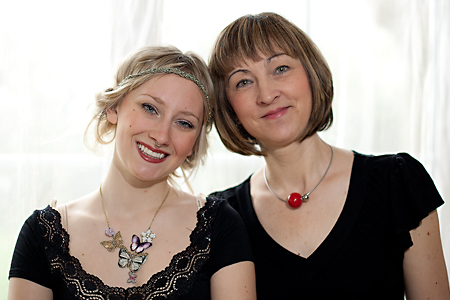 We manufacture by lovely hand work individual pieces with wonderful customizable applications and wonderful accessory apart from mass products.
We, these are a mother of two Children, who has built up the shop along with her daughter. Sarah studies fashion at the FH Trier. She gives already today valuable impulses for the design of our articles. We have been supported of my husband yet who gives advice with his photography skills and as well with his suggestions and actions.
Our shop is relatively young yet, we have created them in September 2011. With the shop a long dream have come true. We have once more endless sweet ideas … we are going to realize them step by step with much energy and drive.
In the meantime a part of our product line has been offered at "Einzigart" in 54290 Trier. The store is located in the pedestrian area in the Johann-Philipp Straße 1a. The producs of "Einzigart" comes from young designers all over the complete area of Germany. The product line includs clothing, adornment, cases and other accessory.
Best wishes and a wonderful day!


Sabine&nbsp and &nbspSarah&nbspGräftner
Partnersites: